Business 2 Business Rates
Wedding Album Printing and Designing
Photo Frame
Acrylic Photo Frames
Backlight Photo Frame
Mugs, T-shirt and More
Wedding Album Printing and Designing
These Rates are for minimum 10 album per order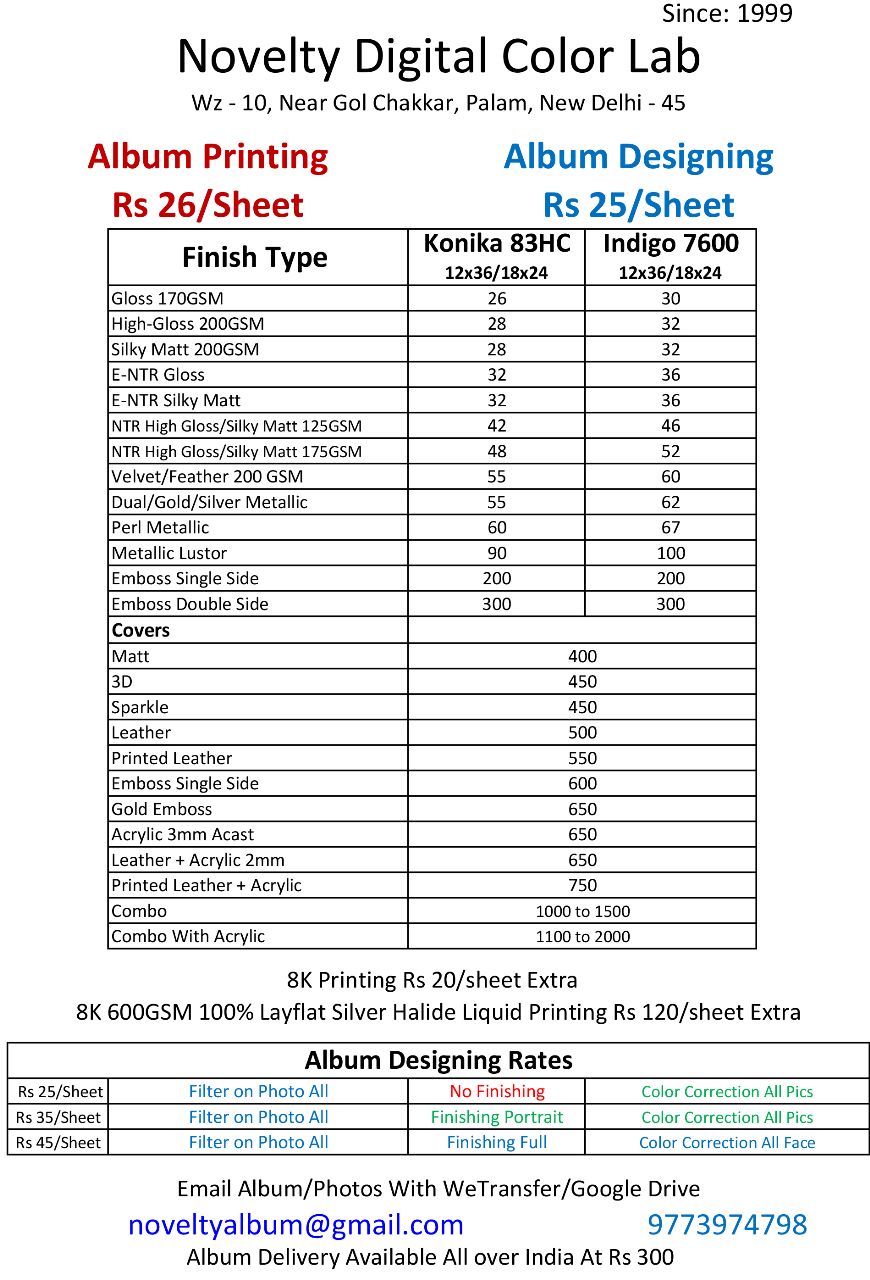 Photo Frame
Acrylic Photo Frames
Backlight Photo Frame
Mugs, T-shirt and More
Get the Best Bulk Rates on Premium Wedding Albums, Photo Frames, and Acrylic Photo Frames  – AlbumDelhi.com
Introduction: Welcome to AlbumDelhi.com, your premier destination for high-quality wedding albums, photo frames, acrylic photo frames, and old media to digital conversion services in Delhi, India. Whether you're a professional photographer, event planner, or a business looking for bulk purchases, we've got you covered! We take pride in offering top-quality products and reliable business-to-business services. Read on to discover how you can benefit from our competitive bulk rates.
High-Quality Wedding Albums for Bulk Purchase in Delhi, India At AlbumDelhi.com, we understand the importance of preserving precious memories in a timeless and elegant manner. Our custom wedding albums are crafted with utmost care and attention to detail, making them the perfect keepsake for couples and their families. By opting for bulk purchases, you can avail yourself of significant discounts without compromising on quality. Create a lasting impression on your clients in Delhi, India, by offering them the finest wedding albums at unbeatable rates.

Bulk Photo Frames for All Occasions in Delhi, India Celebrate life's special moments with our exquisite photo frames, suitable for weddings, anniversaries, birthdays, and more. Whether you need classic wooden frames or modern acrylic ones, we have an extensive collection to choose from. Our bulk rates make it easy for event planners and businesses in Delhi, India, to stock up on an array of photo frames, ensuring you always have the perfect frame to complement cherished photographs.

Stunning Acrylic Photo Frames in Bulk – Wholesale in Delhi, India For a contemporary and sleek display option, our acrylic photo frames are an excellent choice. These frames add a touch of sophistication to any photograph or artwork. When you order in bulk, you unlock exclusive cost savings, allowing you to enhance your offerings or decorations while staying within budget. Trust AlbumDelhi.com for premium acrylic photo frames at the best wholesale rates in Delhi, India.

Preserve Memories with Old Media to Digital Conversion in Delhi, India As technology advances, old media formats like VHS tapes and photo negatives can deteriorate, putting cherished memories at risk of being lost forever. Our VHS to digital conversion service and photo negative scanning service help you safeguard these memories by transforming them into digital formats. For businesses in Delhi, India, we offer special packages at bulk rates, making it easy and affordable to offer this valuable service to your custom 
Contact for Business 2 Business Rates
Delivery charges are extra starting from Rs 300 Its vary according to your address 
Wz-10,, Near Palam Roundal: New Delhi – 110045
Select your Preferred album and design style. Place the order and upload your photos in sequence
We design pages as per your choice of pattern. 
We Show Online Preview and Print on your approval
It takes 3 to 5 Working Days